Posted on
Friday, April 26, 2013 at 1:18PM
ERIC PETERSON
|
WEDNESDAY, APRIL 24, 2013
This is the third in a series of features covering a workday at one of Denver's many coworking or collaborative office spaces. The first two were One Day @ Galvanize and One Day @ Battery621.
Wed. April 17, 2013, 9:15 a.m.
It's an April morning in Denver that reminds me of February in Chicago.
I trudge from the light rail stop at 25th and Welton to
Green Spaces Colorado
, the city's most sustainably minded coworking space, just past Larimer on 26th.
I get there a few minutes before Stephanie Vannucci, Community Manager.
"There are about 70 different businesses that are members," says Vannucci. That includes
Denver Patio Ride
, a movable party that Vannucci runs with her brother Nick while also working for Green Spaces.
She shows me to a desk where I leave my bag and jacket before giving me the dime tour of the place. There's a community kitchen and plenty of
Solar Roast Coffee
. I look around and take in the funky industrial vibe: brick walls, leafy planters that double as partitions, old lamps and splashes of bright color.
Dedicated desks are $325 a month, while a Lounge membership that includes access to desks, chairs and couches, coffee and other amenities is $175, and part-time memberships start at $50 a month.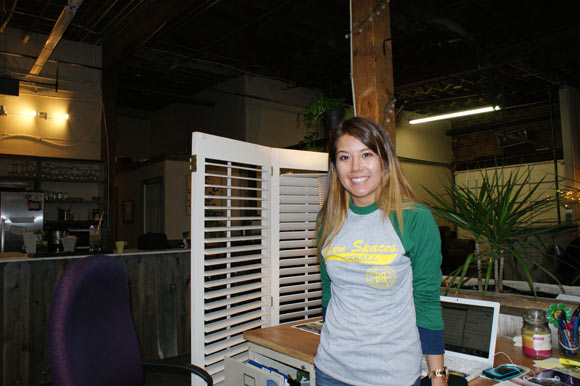 Stephanie Vannucci is the Community Manager of Green Spaces.
Vannucci is wearing a Green Spaces Denver kickball jersey. "We just got our shirts, so we're really excited," she says. It's looking like this afternoon's game will get snowed out.
9:30 a.m.
There's a bit of activity as people arrive, have quiet conversations and cycle to the coffee in the kitchen.
10:11 a.m.
Most of the desks are occupied. There are about four people in the Lounge area.
10:20 a.m.
I briefly talk to Alex Stutt, Director of Design & Engineering at
Rio Grande Solar
, at the desk behind me. "It's been great," he says of his experience at Green Spaces Denver. "It's a nice open environment to work in."
10:30 a.m.
I have a phone interview. Sensing a sucker, a happy golden retriever wanders up to me for a scratch. She gets it.

The call is notably awkward. Journalism can sometimes be so hard.
11:23 a.m.
The golden retriever comes back for another scratch. There are about 10 people in the lounge area.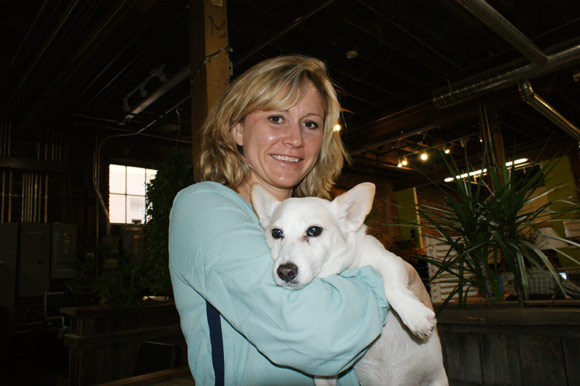 Jennie Nevin, Founder of Green Spaces, and her trusted accomplice Hobbes.
11:32 a.m.
I meet with Jennie Nevin and her nine-year-old Jack Russell terrier, Hobbes. "He has a
Facebook page
," she tells me. "He has like 1,000 friends -- way more than I do. People write him messages."
Nevin opened Green Spaces Colorado in 2010 after opening Green Spaces New York in Manhattan in 2008. "It was in the middle of the country and it seemed like an up-and-coming city," she says. "We're looking for up-and-coming cities."
The old warehouse didn't even have heat before Nevin arrived, but now it's got heat as well as 100 percent solar power, a newly remodeled kitchen and plenty of reclaimed and recycled furnishings. It all adds up to a booming coworking space that's been growing at an especially nice clip in the past year, says Nevin. "It's been attracting a lot of new people."
Tenants must sign a sustainability pledge, she adds. "All of the companies in the space have socially or environmentally responsible bent. We want them to make an impact."
Nevin touts the upcoming
Denver Coworking Week
(May 6-10), "Every day we're featuring a different space," she says. Visitors get free day passes all week long, and the calendar climaxes with a kickball tournament. "The idea is to engage the community," says Nevin. "We're also trying to cross-pollinate our entrepreneurs" -- putting Galvanize's best tech-heads together with the sustainable and social enterprises at Green Spaces Colorado, for example.
Green Spaces Colorado hosts about six events a month that are often open to the public, and does all sorts of things -- from lunch to yoga and wine to kickball and beer -- as a group. "it's really about creating community," says Nevin. "It's fun de-stressing after running a startup all day."
12:10 p.m.
I go back to work at my desk.
12:30 p.m.
I talk with Ashley Johnson of
Galaxy Unite
. She's worked out of Green Spaces Denver since 2010 after a decade in freelance graphic design. "I just wanted to get to know people and have a place to work that was more community-oriented," she explains.
Now she's trying to weave together the country's coworking freelance workforce with Galaxy Unite. The site aims to be a portal for freelancers, employers and coworking spaces all over the nation.
"Now I'm basically redesigning the website," says Johnson, giving me a couple of "collector's items" -- magnets from her file cabinet bearing discarded moniker Galaxy Quotes. The site is slated for relaunch in mid-May.
12:45 p.m.
Rio Grande Solar's Alex Stutt shows me a 3D rendering of a project he's working on in northwest Denver:
Aria
, an apartment complex with plenty of solar panels on its roofs.
1:30 p.m.
I'm starving. Relief comes in the form of homemade turkey noodle soup and a sausage sandwich from
Amerigo
, the Italian deli on the flip side of the block.
2:05 p.m.
Back to work. Post-lunch coma. It's probably inappropriate to sleep on the common couch or curl up under my desk -- one drawback of coworking as opposed to the easy bed access of my home office.
2:45 p.m.
I talk with Grant Southwick of political website
Electful.com
, which compares every national candidate on every imaginable issue.
"The nice part of working here is if you have interns or contractors, they just come in and out and work when they please," he says. Southwick's consulting background was "very stuffy" and included a suit and tie. In comparison, working at Green Spaces "is a breath of fresh air," he says.
3:45 p.m.
It's still snowing and I still want to take a nap.
4:15 p.m.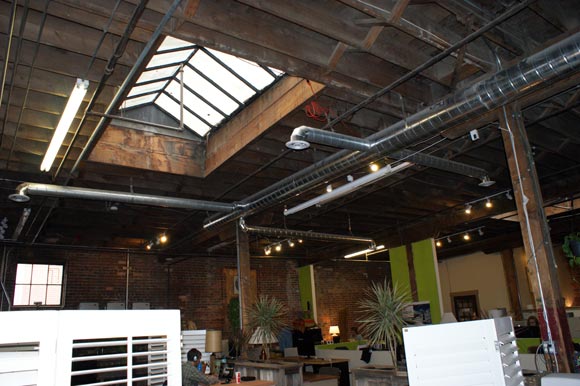 A lot of natural light comes into Green Spaces.
Molly Mazel works for the Denver office of the nonprofit
Chill Foundation
. Rather, she is the Denver office of the Chill Foundation, and she just started working at Green Spaces Denver a few weeks back. "We're establishing a year-round presence, so having a real business address is great," she tells me. "The price is right for lounging, and even the desks are reasonable."
4:30 p.m.
After draining the last cup of pitch black coffee from the dispenser, I have a call with Confluence writer
Jamie Siebrase
to discuss story ideas.
4:45 p.m.
I again meet the resident golden retriever. I learn its name is Koti, because this time I meet her owner, too: Chris Baker, Founder of
OneSeed Expeditions
, a social enterprise/guiding company that takes customers on mountain treks in Nepal and Chile.
The company gives back 10 percent of proceeds to both locales where it operated in the form of micro-loans to female entrepreneurs, financing everything from milk cows to eateries. "We're trying to make capital accessible to people who typically don't have access to it," says Baker.
OneSeed's 44 guides are all local to Nepal or Chile, and the company has a small crew in Denver that needs a lot of "flexibility," says Baker, making coworking spaces a perfect fit. He works out of coworking spaces in Kathmandu, Nepal, and Santiago, Chile, when he's not in Denver.
5:15 p.m.
After giving Nevin a copy of
my band's EP
, I pack my bag as one of Green Spaces' tenants waters the plants by my desk, under a weathered skylight.
"They get enough light from the skylight?" I ask.
"These do very well actually," comes her reply.
I bundle up and wander out into the spring snowstorm, which feels even more like midwinter in Chicago as the sun slides further and further down the Denver sky.
Eric is a Denver-based tech writer and guidebook wiz. Contact him
here
.